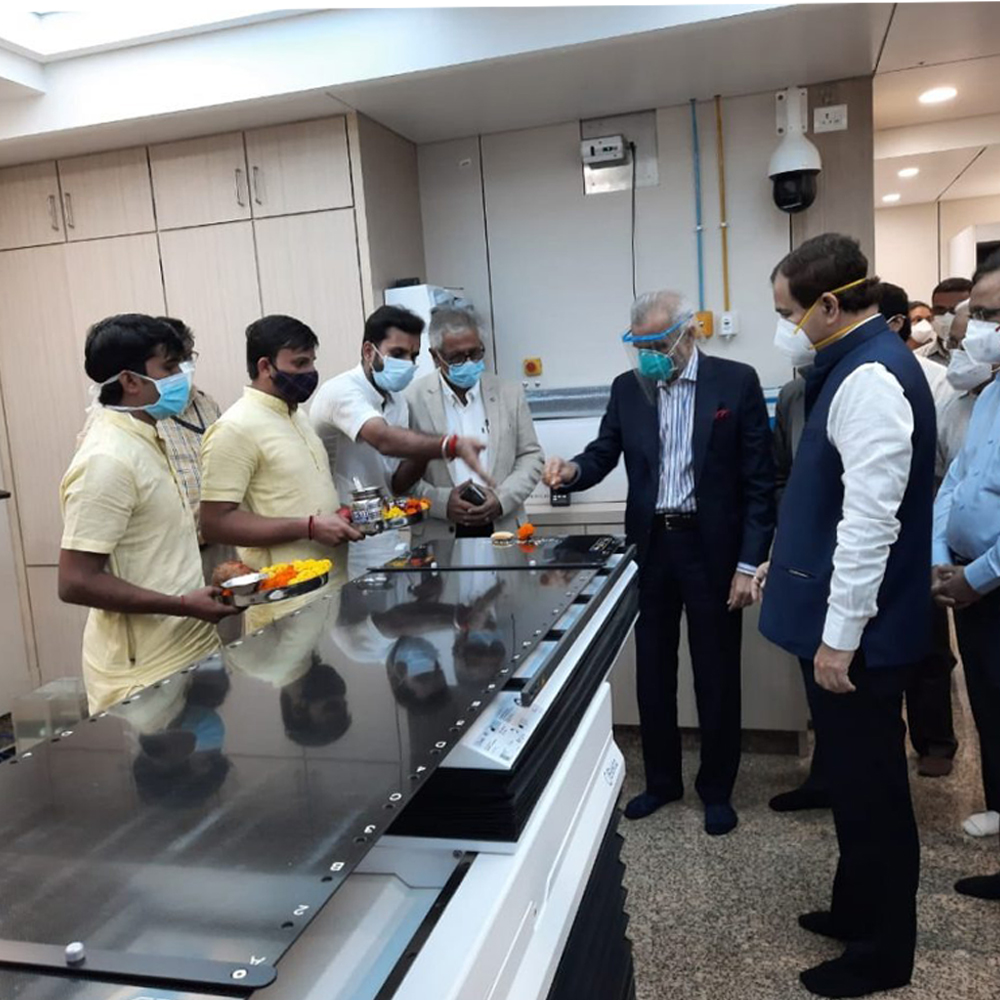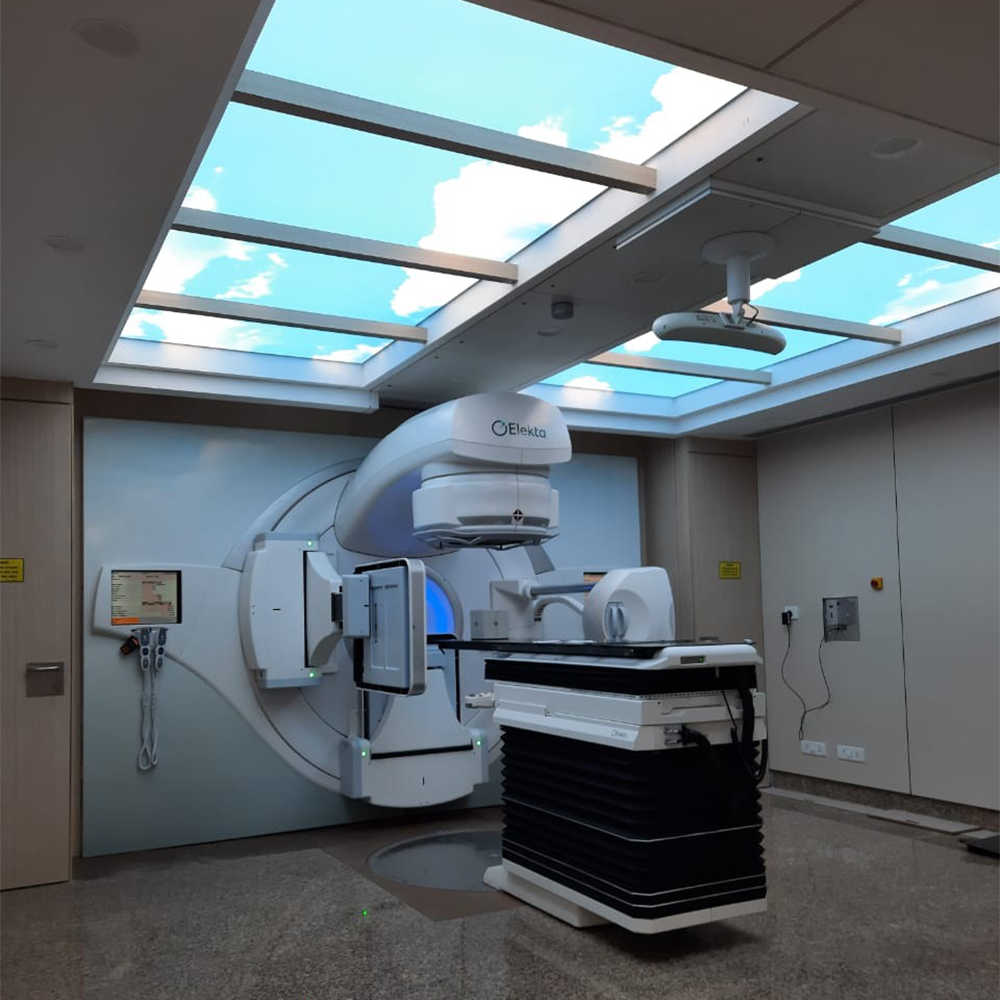 | | |
| --- | --- |
| Location – Radiation Oncology Dept | Ground Floor, MRC(ATM Side) |
| For Appointment | 022-22067676 Extn. 227,229 |
| Dept. Timings | 9 am to 5 pm |
| List of Consultants | Dr Dilip Nikam |
In the pursuit of excellence and an obligation to provide the best treatment, Bombay Hospital is introducing the most modern, state of art Linear Accelerator " VERSA HD capable of High Definition Dynamic Radio-Surgeries". This is the first installation in Maharashtra, second in India. When compare to other technologies available, we feel our modern Linear accelerator with customized software offers advantages in delivering radiation doses precisely and most accurately while keeping side effects at minimum and also improves quality of life.
Bombay Hospital Radiation Oncology Department is having a well trained and qualified team of expert Radiation Oncologists, Medical Physicists, Radiation Therapists, Nurses with oncology training and other specialists.
Our aim is to provide "Personalised Treatment"
4D pet-ct imaging for tumor localization, active breathing control device for motion management, integrated robotic 6D couch and hexapod for patient positioning, monte carlo dose calculator and HDRS MLC for conformal dose distribution, integrated image guidance for dose delivery and experienced oncologists team that separates us to deliver precise and accurate PERSONALISED treatment.
Services/ Techniques Available :
3D CRT, IMRT, IGRT, VMAT techniques to all cancers
Brain Radio Surgeries
SBRT Lung
SBRT Liver
SBRT Pancreas
SBRT Spine
SBRT Prostate
Total Body Irradiation (TBI)
Six Dimension Radiation Treatment (6D RT)-
Integrated robotic 6D positioning guided by an infrared-camera that enables sub-millimeter patient positioning accuracy in six degrees of freedom – correcting translational errors (x, y, z) and rotational errors (roll, pitch, yaw). The result is improved clinical workflow and increased clinical confidence for precise radiation dose delivery.
Active Breathing Control Device (ABC)-
A respiratory motion manager that helps to control respiration and its related organ motions. It reduces the damage to normal tissues. Precision radiotherapy is only possible if motion can be accurately monitored and managed.
4D CT/PET-CT Simulation-
Respiratory organ motion can cause severe geometrical distortion or artifacts in free breathing CT scanning. This may change the size or shape and or position of target. 4D CT/PET-CT Simulation technology obtains many 3-D CT sets, each corresponding to a particular breathing phase. It provides the images that don't just capture tumor, but also the movements of body's organs or the tumor over time. This is very important when treating the cancer of moving organ such as lung, breast, liver, pancreas etc.
IMRT/ VMAT-
Intensity-modulated radiation therapy (IMRT) is a high-precision radiotherapy technique that uses computer-controlled linear accelerators to deliver precise radiation doses to a malignant tumor or specific areas within the tumor while minimizing the dose to surrounding normal critical structures. IMRT also has the potential to reduce treatment toxicity or can deliver higher dose with same toxicity.
Radiosurgery (SRS/SRT/SBRT)-
A non invasive procedure that uses many precisely focused radiation beams to effectively kill a tumor or destroy a lesion. It uses 3D imaging to target high doses of radiation to the affected area with minimal impact on the surrounding healthy tissue. Just like surgery it can be a single day procedure but without incision or opening.
Adaptive Radiation Therapy (ART)-
Adaption is the key for successful treatment outcome, we deliver the adaptive therapy through functional and metabolic imaging.
Image Guided Radiation Therapy-
Inbuilt imaging and its real time advanced imaging registration tools in our LINAC reveal more anatomical information, the movement of the tumor and surrounding organs in 2D, 3D, and 4D. This allows us to account for the tumor and surrounding critical structures and to make changes in positioning before treatment begins, hence the uncertainties can be resolved as the dose is being delivered.